EPP Summit to take place at Congress in Dublin following European Council of 6 March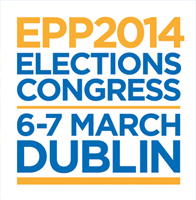 The European People's Party (EPP) will convene on the evening of Thursday, 6 March a statutory Summit of EPP heads of state and government and party leaders. The Summit will take place on the sidelines of the EPP Elections Congress, at the Convention Centre Dublin (see
http://dublin2014.epp.eu
).
The Summit will address the decisions of the extraordinary European Council earlier Thursday, which was convened to discuss the situation in Ukraine, as well as the final preparations for the EPP campaign for the European elections.
The Summit will be chaired by EPP President Joseph DAUL. EPP Secretary General Antonio LÓPEZ-ISTÚRIZ and members of the EPP Presidency will also participate.
Arrivals will start at 19:00 GMT. The Summit will begin at 20:00 GMT. For press points and photo opportunities, there will be a designated press zone adjacent to the arrivals area on the west side of the Convention Centre.
The list of participants includes (in alphabetical order by surname, subject to change): Nicos ANASTASIADES

(Cyprus),

Lars BARFOED

(Denmark),

Jose Manuel BARROSO

(President of the European Commission),

Traian BĂSESCU

(Romania),

Boyko BORISSOV

(Bulgaria),

Simon BUSUTTIL

(Malta),

Jean-François COPÉ

(France),

Ján FIGEĽ (Slovakia), Janez JANŠA

(Slovenia),

Jean-Claude JUNCKER (Luxembourg), Tomislav KARAMARKO

(Croatia)

,

Jyrki KATAINEN

(Finland),

Enda KENNY

(Ireland),

Andrius KUBILIUS

(Lithuania),

Angela MERKEL

(Germany),

Viktor ORBÁN

(Hungary),

Pedro PASSOS COELHO

(Portugal),

Mariano RAJOY

(Spain),

Urmas REINSALU

(Estonia),

Antonis SAMARAS

(Greece),

Michael SPINDELEGGER

(Austria),

Laimdota STRAUJUMA

(Latvia),

Donald TUSK

(Poland)

,

Sybrand VAN HAERSMA BUMA (Netherlands),

and

Herman VAN ROMPUY

(President of the European Council).
Note to editors:


The EPP is the largest and most influential European-level political party of the centre-right, which currently includes 73 member-parties from 39 countries, the Presidents of the European Commission and the European Council, 12 EU and 6 non-EU heads of state and government, 13 members of the European Commission and the largest Group in the European Parliament.



For more information:


Kostas Sasmatzoglou, EPP Spokesman, Tel. +32-2-2854147
Javier Jiménez, EPP Director of Press and Communications, Tel. +32-475480446