CDA, a party of values to answer the concerns of Dutch citizens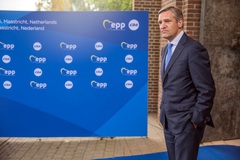 As Dutch citizens head to the polls on 15 March, Joseph Daul, the President of the European People's Party (EPP), reiterated his support for the Dutch EPP member party, CDA, and for its leader, Sybrand Buma:
"The CDA's formidable campaign shows that Christian democratic values are the answer to the concerns of our citizens. The CDA offers voters a reliable alternative to polarisation and to the liberals' selfish policies. The CDA has put forward a programme for the future based on values, on solidarity combined with responsibility and justice — a programme guided by the norms and values Dutch citizens want to see put into practice in their society."
The Dutch elections are the first of several important votes across the European Union in 2017.
"Europe is watching the Dutch elections. A victory by the CDA would send a strong signal throughout Europe: that the concerns of the people regarding their future have been heard and answered by Christian democratic parties. Since the provincial elections in 2015, the CDA has been on an upward trend. I am confident that the Dutch citizens will trust once again the Dutch Christian Democrats, and I look forward to welcoming Sybrand Buma as the winner of Dutch general elections at the EPP Congress in Malta on 29-30 March," concluded EPP President Daul.
The EPP is the largest and most influential European-level political party of the centre-right, which currently includes 79 member parties and partners from 41 countries, the Presidents of the European Commission, the European Council and the European Parliament, 7 EU and 5 non-EU heads of state and government, 13 members of the European Commission and the largest Group in the European Parliament.
For more information:
Siegfried Muresan, EPP Spokesperson, Tel. +32 22854147