Spain: Luis de Guindos appointed Co-Chairman of the EPP Ecofin Ministers group
Brussels, 28 January 2014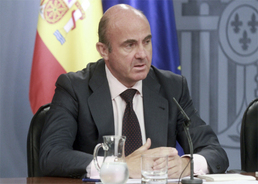 The Ministers of Economy and Finance (Ecofin) of the European People's Party (EPP) today appointed the Spanish Minister of Economy, Luis de Guindos, as Co-Chairman of this EPP Ministerial grouping. Minister de Guindos will share the Chairmanship with the Minister of Finance of Sweden, Anders Borg.
The President of the EPP, Joseph Daul, today congratulated Minister de Guindos on his appointment and praised the outgoing Chairman, Luc Frieden, the former Minister of Finances of Luxembourg:
"I congratulate Luis de Guindos and wish him well as he assumes his new role as Co-Chair of the EPP Ecofin Ministers Meetings. I am confident that he and Anders Borg will together serve as strong advocates of the EPP's economic policies going forward. I also offer my gratitude to Luc Frieden. His wisdom and dedication helped to strengthen EU-level policy in combatting the economic and financial crisis. Luc Frienden and Anders Borg, the two Co-Chairmen, did an excellent job during the past years despite incredibly difficult economic circumstances in Europe."
EPP Secretary General Antonio López-Istúriz also praised the nomination of Luis de Guindos:
"Minister De Guindos is the right politician to carry forward the EPP's economic policies. His appointment reflects the fact that Spain is playing an increasingly relevant role in the EU. Meanwhile, the Spanish economy is recovering thanks to the positive reforms implemented by the government of Prime Minister Mariano Rajoy. Minister De Guindos has been instrumental in these efforts, which have boosted competitiveness and restored confidence in the Spanish economy."
The EPP Ecofin Ministers meet before every Ecofin meeting of the Council of the EU, with the goal of debating and coordinating common positions. In recent years the work of the EPP Ecofin Ministers has been critical to key decisions reached by the Council. Commissioners Michel Barnier and Algirdas Šemeta, together with leading EPP Members of the European Parliament, also play an important role in coordinating the EPP's efforts regarding economic and financial affairs. Currently, 11 out of 28 Ministers of the Ecofin belong to the EPP political family.
Moreover, the EPP Ecofin meeting is part of a series of EPP Ministerial meetings, which also includes General Affairs, Foreign Affairs, Energy, Employment, Agriculture, Labour and Social Affairs, Defense, Justice, Home Affairs, Environment and Transport, all of which are organised and coordinated by the EPP from its Brussels headquarters. The EPP Ministerial meetings underpin the horizontal activity of the party with all the main EU institutions including the EU Council.
The EPP is the largest and most influential European-level political party of the centre-right, which currently includes 73 member-parties from 39 countries, the Presidents of the European Commission and the European Council, 12 EU and 4 non-EU heads of state and government, 13 members of the European Commission and the largest Group in the European Parliament.
For more information

:
Kostas Sasmatzoglou, EPP Spokesman, Tel. +32-2-2854147
Javier Jiménez, EPP Director of Press and Communications, Tel. +32-475480446
Photo:

"Ministerio de Economía y Competitividad. Gobierno de España"