Hungary: President Daul congratulates re-election of FIDESZ and PM Viktor Orban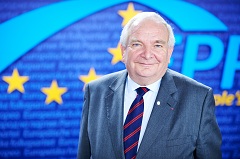 The President of the European People's Party (EPP), Joseph Daul, has congratulated EPP member party FIDESZ and its leader, Prime Minister Viktor Orban, for their electoral victory in the Hungarian parliamentary elections:
"I warmly congratulate Viktor Orban and FIDESZ for today's impressive electoral victory. The people of Hungary have renewed their confidence in PM Orban and his government because he has always spoken the truth to them and because he implemented courageous reforms, which put the country's economy back on track."
"I am convinced that today's electoral victory by FIDESZ will also be repeated in the European elections."
The EPP is the largest and most influential European-level political party of the centre-right, which currently includes 73 member-parties from 39 countries, the Presidents of the European Commission and the European Council, 12 EU and 6 non-EU heads of state and government, 13 members of the European Commission and the largest Group in the European Parliament.
Kostas Sasmatzoglou, EPP Spokesman, Tel. +32-2-2854147
Javier Jiménez, EPP Director of Press and Communications, Tel. +32-475480446