Brussels, 10 October 2013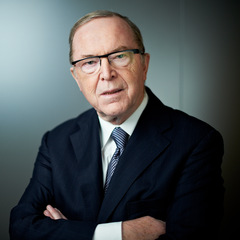 The President of the European People's Party (EPP),
Wilfried Martens
, passed away during the night of 9 October at the age of 77. The EPP and the EPP Group in the European Parliament wish to express their great sadness at the passing of Wilfried Martens and extend their sincerest condolences to his wife
Miet Smet
, children and relatives.

Joseph Daul, Chairman of the EPP Group and Acting President of the EPP, said:

"Today we have a lost a great European, a founding father of the EPP, and of the European Union. We will always remember the legacy of a great leader and all that he has done for our political family. The EPP was Wilfried Martens' life's work and he worked with an unstoppable energy to promote Christian democratic values in Europe. As a strong promoter of European integration, and with great vision, he worked tirelessly to build the strong and united political family that we are today, and made a lasting mark on Europe and beyond. He enjoyed the respect of the countless heads of state and government and party leaders whom he worked with over the years, and he was the architect of consensus building in the EPP.

His vast experience at the helm of the Belgian government (1979-1992), the EPP (1990-2013), the EPP Group (1994-1999), and the Centre for European Studies (2007-2013), made of him not only a great European statesman but also one of the foremost voices of European unification. His work in promoting the enlargement process in Central and Eastern Europe and helping to heal the wounds of warn-torn Bosnia and Herzegovina, made him known as the 'traveller for democracy'. His tireless engagement in building an EU-level political system and demos represents a tremendous legacy for the European project.

Needless to say, the EPP will never be the same without him. We will always be indebted to him for his leadership and the role he played in making the Europe of today."

A State Funeral will take place on Saturday 19 October at 11:00 in the Sint Baafscathedral in Ghent, Belgium.



Note to editors

:
The EPP is the largest and most influential European-level political party of the centre-right, which currently includes 74 member-parties from 40 countries, the Presidents of the European Commission and the European Council, 13 EU and 5 non-EU heads of state and government, 13 members of the European Commission and the largest Group in the European Parliament.



For more information

:
Kostas Sasmatzoglou, EPP Spokesman, Tel. +32-2-2854147
Javier Jiménez, EPP Senior Press and Communication Officer, Tel. +32-475480446