EPP candidate Jean-Claude Juncker discusses priorities for Commission presidency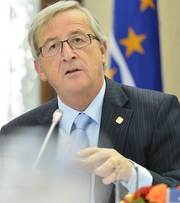 In an interview today with the Süddeutsche Zeitung, the EPP's candidate for President of the European Commission, Jean-Claude Juncker, discussed his priorities for reforming the Commission, leading Europe out of the crisis and strengthening the Economic and Monetary Union, among other topics. The highlights of the interview are as follows:
Reforming the European Commission
"I want to co-decide with national governments on the selection of Commissioners. I want Commissioners who have gained experience at national, regional and local level. I will not accept Commissioners who are the result of party-political bargaining or which need a quiet retirement job in Brussels".

"Europe needs a strong Commission, with strong Commissioners who can work eye to eye with Member States".

"The main focus of the new Commission must be economic growth, jobs and the strengthening of our internal market".

"If I had been Commission President during the crisis, I would have appointed a Commissioner for Greece. He would have been in charge of regional EU funds, budgetary issues, the labour market. This would have avoided the fact that Greek Ministers had to go to several Commissioners in Brussels to always explain the same story to each of them".
The crisis, neoliberalism and the socialists
"Solidarity is not the monopoly of the socialists. It was chiefly the EPP that ensured solidarity between Member States during this crisis".

"We had a neoliberal Europe when the socialists were in the majority in Europe. It was Schröder and Blair who deregulated financial markets. It was the EPP which brought Europe back to the social market economy".
Strengthening the Economic and Monetary Union
"We need a permanent, full-time President of the Euro Group. Steering fiscal and economic policies of the euro area is a full-time job. The U.S. Secretary of the Treasury does not work on the finances of Ohio during day time and then only looks after the U.S. fiscal policy in the evening". (Note: A full time President of the Euro Group is possible today under Article 2 of Protocol No 14)".

"We may need limited Treaty amendments to further strengthen our Monetary Union".
Juncker's candidacy and the selection of the next Commission President
"The EU Treaties are crystal clear: the next Commission President must be proposed and elected in the light of the outcome of the European Parliament elections." (see Article 17(7) Treaty on European Union)".

"I trust that European governments will follow the Treaties".

"The drafters of the relevant Treaty provision were leading members of the German Christian Democrats".

"At the EPP Congress in Dublin, Chancellor Angela Merkel said: 'Jean-Claude Juncker is our candidate for the office of President of the European Commission'".
Populists and extremists
"I will never make a coalition with the right wing extremists. I will fight them".
Note to editors:


The EPP is the largest and most influential European-level political party of the centre-right, which currently includes 73 member-parties from 39 countries, the Presidents of the European Commission and the European Council, 12 EU and 6 non-EU heads of state and government, 13 members of the European Commission and the largest Group in the European Parliament.



For more information:


Kostas Sasmatzoglou, EPP Spokesman, Tel. +32-2-2854147
Javier Jiménez, EPP Director of Press and Communications, Tel. +32-475480446