Georgia: EPP President deeply concerned at the arrest of former Prime Minister and of former Health Minister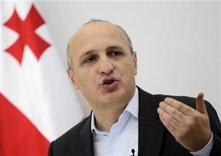 The President of the European People's Party (EPP), Wilfried Martens, has expressed his astonishment and concern at yesterday's arrest and detention of former Prime Minister and UNM Secretary General Vano Merabishvili and of former Health Minister, current governor of Kakheti, Zurab Chiaberashvili:
"I'm astonished at and deeply concerned about the arrests of Vano Merabishvili and Zurab Chiaberashvili. These arrests are a very serious setback for Georgian democracy since former PM Merabishvili, as Secretary General of the UNM and leader of the main opposition party is a potential candidate for the upcoming presidential elections which will take place in October. Decapitating the opposition will have significant consequences for the country's political system, so I call on the international community to set up a monitoring mechanism that will assess the entire electoral process prior the presidential elections.
Needless to say, I expect that the fundamental rights of Mr Merabishvili and all other detainees - rights protected by the ECHR - will be fully guaranteed and respected in a country that wants to join the Euro-Atlantic structures. I call on all the relevant authorities of the European Commission and the other European institutions to monitor closely and to assess thoroughly the judicial process; the EPP will surely do the same.
I also hope that judges will be able to take independent and impartial decisions. However, the constant public accusations and blackmails made by representatives of the Georgian Dream (GD) government - and the fact that the Prime Minister Bidzina Ivanishvili has publicly admitted that there is connection between the ongoing cases against the UNM leaders and the level of criticism expressed by the opposition - lead me to believe that yesterday's arrests are only a new stage in the government's ambition to eliminate the opposition. If these arrests prove to be politically motivated, it may result in the freezing of Georgia's Association Agreement process.
Moreover, I am deeply surprised by the lack of strong reaction by the GD government to the violent attack against the participants of a LGBT rally on May 17. Freedom of expression is a fundamental democratic value that must be respected, irrespective of personal convictions. I do hope that the perpetrators of these violent acts will be sanctioned accordingly."
The EPP is the largest and most influential European-level political party of the centre-right, which currently includes 73 member-parties from 40 countries, the Presidents of the European Commission and the European Council, 13 EU and 6 non-EU heads of state and government, 13 members of the European Commission and the largest Group in the European Parliament.
Javier Jiménez, EPP Senior Press and Communication Officer, Tel. +32-475480446