EPP leaders unveil the selection procedure and timetable for the EPP's candidate for President of the European Commission
Brussels, 19 December 2013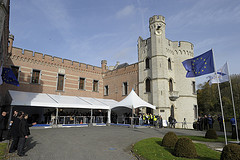 The leaders of the European People's Party (EPP) met today in Meise for a party summit ahead of the European Council (click here for photos) and agreed upon the procedure and timeline for the selection of the EPP candidate for President of the European Commission, who will lead EPP's EU-wide campaign for the 2014 European elections:
13 February (EPP Summit) – opening of the submission of candidacies; to be nominated, a candidate needs the support of his or her own member party, plus the endorsement of two member parties from two EU countries other than the country of origin of the candidate

5 March – last day to submit candidature

6 March (Dublin Congress) – review of the candidatures at the Political Assembly; validation of the candidatures and submission to the Congress for a vote

7 March (Dublin Congress) – Congress delegates vote to elect the candidate; proclamation of the candidate; launch of the campaign

Today's EPP Summit was hosted by President Joseph DAUL and attended by EPP Secretary General Antonio LOPEZ-ISTURIZ and members of the EPP Presidency.

Jose Manuel BARROSO (European Commission), Herman VAN ROMPUY (European Council), Angela MERKEL (Germany), Mariano RAJOY (Spain), Traian BĂSESCU (Romania), Viktor ORBÁN (Hungary), Donald TUSK (Poland), Fredrik REINFELDT (Sweden), Valdis DOMBROVSKIS (Latvia), Enda KENNY (Ireland), Antonis SAMARAS (Greece), Jyrki KATAINEN (Finland), Pedro PASSOS COELHO (Portugal) and Nicos ANASTASIADES (Cyprus) attended the Summit.
In addition, Deputy Prime Minister Angelino ALFANO (Italy), Deputy Prime Minister Pieter DE CREM (Belgium), Minister of Defence Urmas REINSALU (Estonia) and opposition leaders Jean-Claude JUNCKER (Luxembourg), Boyko BORISSOV (Bulgaria), Simon BUSUTTIL (Malta), Jean-François COPE (France), Jan FIGEL' (Slovakia), Janez JANŠA (Slovenia), Andrius KUBILIUS (Lithuania), Karel SCHWARZENBERG (Czech Republic) and Sybrand Van HAERSMA BUMA (The Netherlands) were also present.
The EPP is the largest and most influential European-level political party of the centre-right, which currently includes 74 member-parties from 39 countries, the Presidents of the European Commission and the European Council, 12 EU and 4 non-EU heads of state and government, 13 members of the European Commission and the largest Group in the European Parliament.
Kostas Sasmatzoglou, EPP Spokesman, Tel. +32-2-2854147
Javier Jiménez, EPP Senior Press and Communication Officer, Tel. +32-475480446