EPP Political Assembly discusses rule of law in Poland and elects new EPP Vice President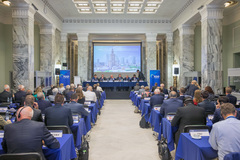 The members of the European People's Party (EPP) Political Assembly discussed the rule of law in Poland and the political situation of the country at its meeting in Warsaw. In the margins of the meeting, EPP President Joseph Daul made the following statement:
"The EPP Political Assembly has gathered this time in Warsaw to get acquainted with the situation regarding the rule of law in Poland and give all our support to EPP member parties Platforma Obywatelska (PO) and Polskie Stronnictwo Ludowe (PSL) ahead of the upcoming local and regional, European and national elections. The worrying situation with the rule of law has been a great concern for the EPP and Europe for some time now. The rule of law, the independence of justice and respect for all freedoms are the foundations of a healthy democracy.
EPP remains alert at the fact that Poland is drifting away from the European Union. The Polish government is undermining the legitimate aspirations of the Polish citizens committed to European values and to the European Union. One of our greatest concerns is the independence of the Polish judicial system, with a clear separation of powers and the competences of a superior court.
The EPP therefore calls on the European Commission to use all the instruments, including the Court of Justice of the European Union, to make sure that Polish government complies with the European law and standards.
In the meantime, we stand with the Polish people and our EPP member parties PO and PSL in the pursuit of a free, modern and open Poland."
We have also taken the opportunity during the EPP Political Assembly in Warsaw to debate ways to ensure Poland stops drifting away from respecting the rule of law and returns to an independent judiciary.
The members of EPP Political Assembly also elected Esther De Lange as EPP Vice-President and expressed their gratitude for the work and commitment of former EPP Vice President Corien Wortmann-Kool throughout her years in the party presidency.
Finally, the EPP Political Assembly held a minute of silence in tribute to Nicole Fontaine, the former President of the European Parliament.
Note to editors:
The EPP is the largest and most influential European-level political party of the centre-right, which currently includes 77 member parties and partners from 41 countries, the Presidents of the European Commission, the European Council and the European Parliament, 9 EU and 5 non-EU heads of state and government, 13 members of the European Commission and the largest Group in the European Parliament.
For more information:
Siegfried Muresan, EPP Spokesperson, Tel. +32 22854147