EPP fully endorses Maia Sandu as the only candidate of the centre-right in Moldova's presidential elections
B
russels, 15 October 2016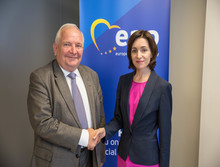 The European People's Party (EPP) welcomes the decision of three Moldovan centre-right pro-European political parties to agree on putting forward a common candidate at the upcoming presidential elections on 30 October.
"The EPP has been since the beginning a staunch supporter of a common centre-right candidate and I am delighted by the wise decision of our member party, the Liberal Democratic Party of Moldova (PLDM), and the Dignity and Truth Platform (PPDA) to officially endorse Maia SANDU, the President of the Action and Solidarity Party (PAS) as the centre-right common candidate. In particular, I would like to praise PLDM's continuous efforts to identify and support a common candidate as only united we can win," said EPP President Joseph DAUL.
"Maia Sandu is a courageous, honest, and dedicated politician, who has Moldova's best interests at heart. The EPP fully supports and stands by Maia Sandu as the only centre-right pro-European candidate, who can represent and fight for the interests of every citizen of Moldova. Maia Sandu's commitment to EPP values and principles, and her determination to fight against corruption, to make the justice system independent, and to strengthen the rule of law will ensure Moldova remains democratic and continues on the European path," continue the EPP President.
"I would like to express my deepest respect to PPDA leader, Andrei NASTASE for his decision to withdraw from the race. Nastase showed that the interests of the country are above his personal political ambitions."
"At the same time, I deeply regret that the leader of European People's Party of Moldova (PPEM), Iurie LEANCA has showed little support and has withdrawn from the process of finding a common candidate contrary to the promise made to the EPP delegation in May 2016. A divided centre-right only benefits the pro-Russians and the oligarchs who have no interests in having a prosperous and democratic Moldova. In view of Maia Sandu's appointment, I strongly urge Iurie Leanca to pull out of the race and support the common candidate: every vote for the centre-right counts," said the EPP President.
"I send my best wishes to Maia Sandu in this election campaign and I hope now more than ever that PLDM, PAS, and PPDA will unite their forces to win the next presidential elections. In the meantime, EPP is and will remain a strong partner and supporter of Maia Sandu," concluded EPP President Joseph Daul.
Note to editors:
The EPP is the largest and most influential European-level political party of the centre-right, which currently includes 75 member parties from 40 countries, the Presidents of the European Commission and the European Council, 7 EU and 5 non-EU heads of state and government, 14 members of the European Commission and the largest Group in the European Parliament.
For more information:
Siegfried Muresan, EPP Spokesperson, Tel. +32 22854147